Press release
Responsibility
April 3, 2019
Evonik improves Dala primary school facilities in partnership with UPG Myanmar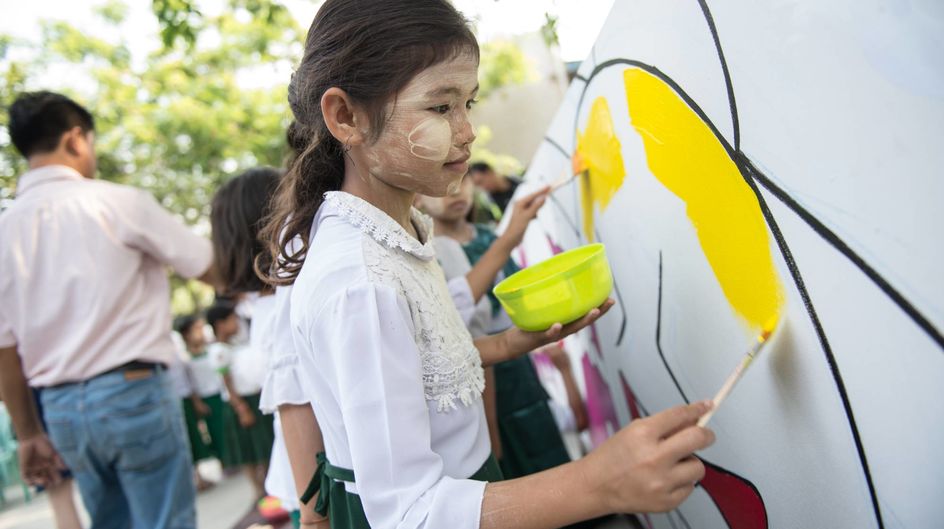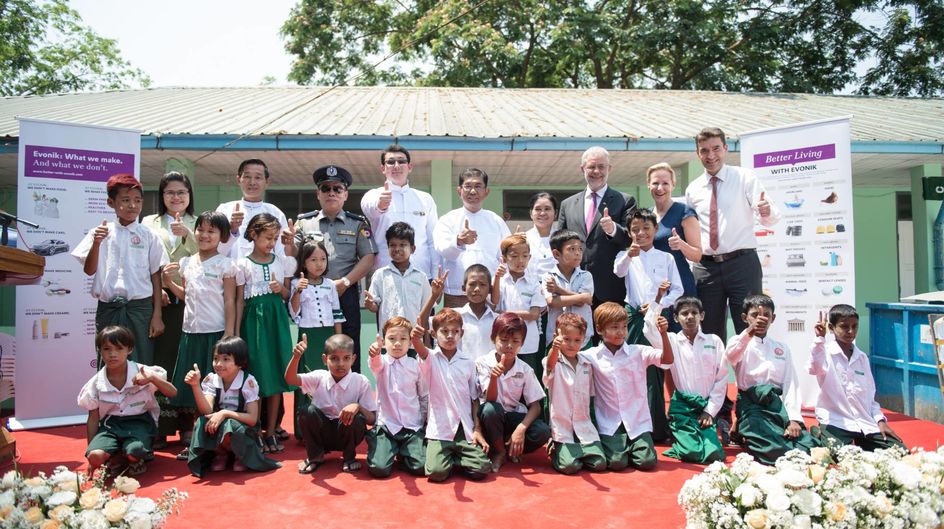 Dala Township, Yangon. Germany-based specialty chemicals company Evonik announced the completion of an infrastructure improvement project at No. 12 Basic Education Primary School in Dala, one of Yangon region's most disadvantaged townships.

The project includes construction of a drainage, concrete paving of the outdoor grounds to prevent flooding, a new playground, and repainting of the school buildings. Evonik teamed with Myanmar's leading paint manufacturing company, United Paints Group (UPG), who donated about 100 gallons of paint products.

Speaking at the handover ceremony today, Peter Meinshausen, President of Evonik Asia Pacific South said: "The project aims to help create a more conducive, safe, and engaging learning environment. Together with UPG, we thank the school and township officials for giving us this humbling opportunity to contribute in a meaningful way to the lives of the students, the teaching staff, and the larger community."

Contributing his talent is Myanmar street artist Arker Kyaw who designed a unique marker for the project. Done in his signature street art style, the marker is an uplifting and colorful community wall mural that features the Burmese words for Learn, Create and Grow.
"Arker Kyaw's interactive art made this project even more fun for everyone. Creativity is one of our core competencies as a company and it shines through in all of our activities whether it's in research and development or corporate social responsibility," Meinshausen added.

"We would like to thank Evonik and UPG for their generosity and goodwill. The transformation of our school has made a huge difference to our students' lives. Now, they have a safe and wide space to play in the schoolyard and a classroom that provides them a good learning atmosphere," said Daw Aye Aye, Principal of No. 12 Basic Education Primary School.
About Dala Township: Dala is a rural fishing village located across the river from downtown Yangon and is accessible via small motor boats, the local ferry, or the Yangon Water Bus. With an underdeveloped water infrastructure, flooding of houses and schools are common especially during the rainy season which can last roughly for seven months. Residents also rely on rainwater ponds and donations from both local and international communities for their drinking water supply.

About No. 12 Basic Education Primary School: No.12 Basic Education Primary School is one of the largest among more than 40 schools in Dala township and currently caters to a total of 153 students from Grades 1 to 5 and five teaching staff.

Corporate Social Responsibility in Evonik: The Dala project is part of Evonik's corporate social responsibility commitments. Globally, the company takes an active role in encouraging its employees and business partners to bring about positive change particularly in marginalized communities. At the same time, a broader part of these initiatives focuses on providing sustainable solutions to address global challenges and customer needs. For further information about the company's Sustainability, please visit https://corporate.evonik.com/en/responsibility/.
Company information
Evonik is one of the world leaders in specialty chemicals. The focus on more specialty businesses, customer-oriented innovative prowess and a trustful and performance-oriented corporate culture form the heart of Evonik's corporate strategy. They are the lever for profitable growth and a sustained increase in the value of the company. Evonik benefits specifically from its customer proximity and leading market positions. Evonik is active in over 100 countries around the world with more than 36,000 employees. In fiscal 2018, the enterprise generated sales of €15 billion and an operating profit (adjusted EBITDA) of €2.6 billion.
Disclaimer
In so far as forecasts or expectations are expressed in this press release or where our statements concern the future, these forecasts, expectations or statements may involve known or unknown risks and uncertainties. Actual results or developments may vary, depending on changes in the operating environment. Neither Evonik Industries AG nor its group companies assume an obligation to update the forecasts, expectations or statements contained in this release.